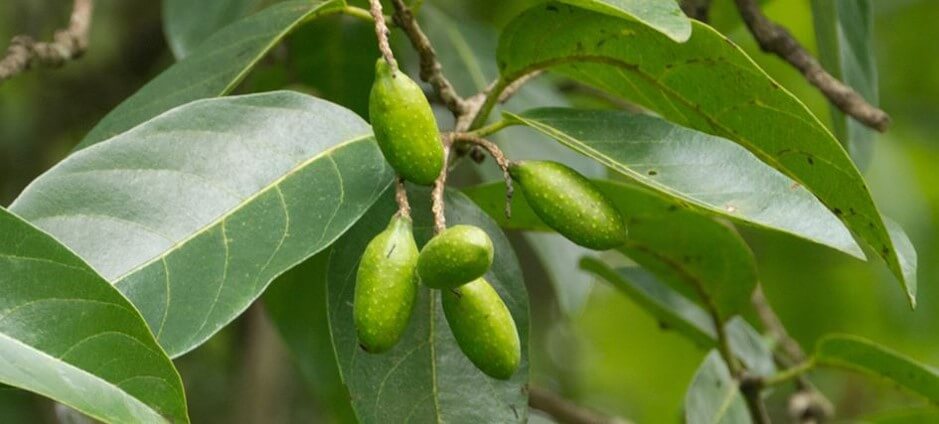 Terminalia chebula benefits
Terminalia chebula has a vast array of benefits. These benefits are listed on this web site under the Haritaki benefits link 
The Terminalia chebula Tree
The Terminalia chebula tree is part of the grouping of plants called  Myrobalans even though they are unrelated. Included in that group are the following trees: Cherry Plum, Amla, Arjuna, and Bahera.
Terminalia chebula is known as Haritaki in Sanskrit, and Hindi. Its English name is Chebulic Myrobalan, the Gujarathi name is Harade, theTamil name is Kadukkai, other Hindi names are Harad or Harade, the Kannada name is Alale, the Arabian name is Haleelaz, the Telugu name is Karakkaya, the Farsi name is Haleel, the Tibetan name is A-ru-ra, the Gujarat name is Himmej, the Chinese name is  诃子 or he zi, and the Assamese name is Xilikha. The references are all listed at the bottom of the page
The scientific classification is as follows:
Terminalia chebula is in the Order Myrtales; Family: Combretaceae, and Genus Terminalia
The Terminalia  chebula tree bears small fruits that are nut like, with ribs. These are harvested while still green, and then cured, pickled and boiled to make a preserve by adding jam sugar. The fruit is dried to make Haritaki powder. The seed is elliptical in shape with an abrasive feel.
Terminalia chebula Cultivation and Uses
There are seven different variations in the fruit that are recognized:
Rohini
Vijaya
Putana
chetaki
amrita
jivanti
abhaya
The fruit comes from different regions, with the most favored coming from the Vindhya Range of West Central India. These are less angular and more round than other shapes (Srikanthamurthy 2001).
We have detailed the history and benefits of Haritaki elsewhere in this web site, here are the links to History, and Haritaki benefits
This video shows the seeds as they are being used for traditional medicine.
References:
Names in different languages:
Haritaki = http://www.sacredhealing7.com/Haritaki_Fruit.html
Harad= http://www.4to40.com/ayurveda/index.asp?p=Terminalia_Chebula
Kadukki = https://www.linkedin.com/pulse/from-nutritionists-diary-amazing-benefits-haritaki-chandra
Haleel,= http://www.uvas.edu.pk/advisory_service/mediplanta/black-chebulic-myrobalan.htm
A-ru-ra, = http://www.lamayeshe.com/glossary/term/arura-tib
Himmej = http://beayurvedic.blogspot.com/2014/05/himej-terminalia-chebula.html
诃子 or he zi, =  http://old.tcmwiki.com/wiki/he-zi