Haritaki fruit is harvested from the large trees, Terminalia chebula, or Yellow Myrobalan, by climbing the trees and picking the green fruit.
The Haritaki fruit contains a nut inside a  softer fleshy layer.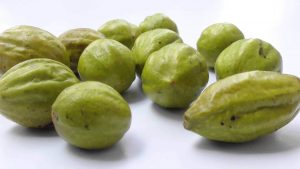 The layer is removed and the nut is then dried and stored.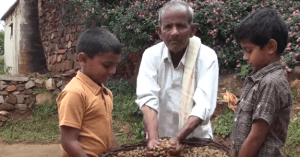 Haritaki is then ground into powder and either shipped as powder or packaged into tablets or capsules.
Capsules can be ordered as vegi caps or non vegi caps. Tablets in general are not was well digested as capsules, so capsules are my recommendation to take.
The powder itself is very strong and bitter in flavor, and I do not recommend taking it unless you have a strong will, or love extraordinary bitterness taste.
We find that the Haritaki Fruit has different names in different parts of the world. This is a list we have compiled:
The Latin botanical name given is Terminalia chebula. The family is the Combretaceae family.
English name is Chebulic Myrobalan
Gujarathi name is Harade
Tamil name is Kadukkai
Hindi names are Harad or Harade
Kannada name is Alale
Arabian name is Haleelaz
Telugu name is Karakkaya
Farsi name is Haleel
Tibetan name is A-ru-ra
Sanskrit name is harītakī, which is similar to the Hindi name
Gujarat name is Himmej
Chinese name is 诃子 or he zi
Assamese name is Xilikha
This link takes us to a deatiled description of Haritaki Fruit